As a fully licensed and equipped optometric practice, Meridian Eyecare P.C. offers a complete range of eye care services to all our patients.
Whether the eye care issue involves correcting refractive errors with eyeglass or contact lenses, or helping a student find amazing frames, or diagnosing/treating eye conditions and diseases, our experienced team will identify and implement the best eye care solutions for you.
Eye Health Evaluation
With our years of experience in diagnosing and treating typical vision disorders such as nearsightedness, farsightedness, amblyopia, presbyopia, cataracts, macular degeneration and diabetic retinopathy, Amanda Gorsline O.D. and Ashleigh Hanlin O.D. and their team are equipped to provide appropriate therapeutic medical eye care.
At the same time, the Meridian Eyecare P.C. team offers a wide array of high quality eye care products at reasonable prices. Our patients never pay too much for the best quality in eyeglasses, contact lenses, sunglasses, progressive and bifocal lenses, and outstanding service.
Treatment of Eye Disease
If you are diagnosed with an eye disease, you want the best treatment available to get your eyes healthy again. At Meridian Eyecare P.C., we stay current with best treatment practices. Based on your diagnosis, we may recommend a wide variety of approaches, including improved nutrition, prescription medicines, therapy and vision exercises, or medical procedures.
Good Eyecare Begins With A Yearly Eye Exam!
Although many do not realize it, the best way to protect your vision is with a yearly eye checkup. Even a basic eye exam can instantly detect many health-threatening conditions, such as tumors, vascular irregularities, and diabetes-related injury to the retina. At Meridian Eyecare P.C., that basic checkup is brief and painless.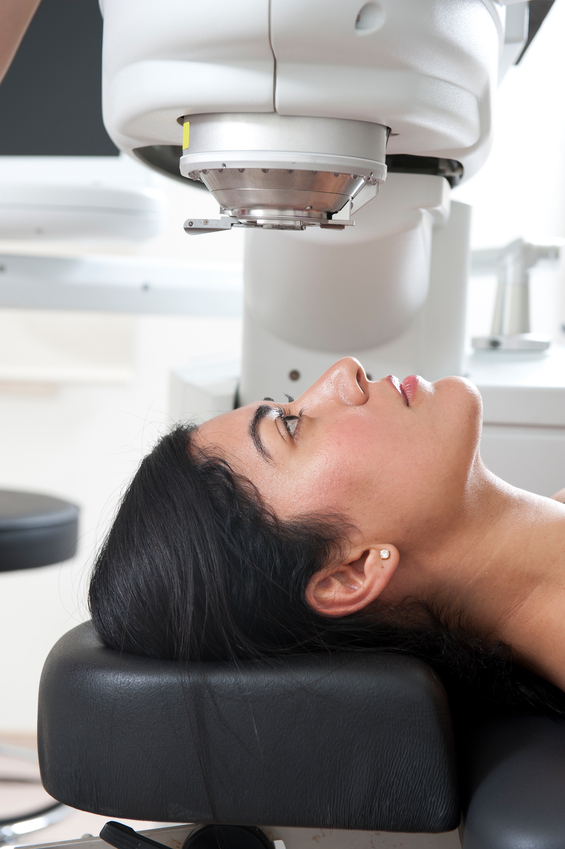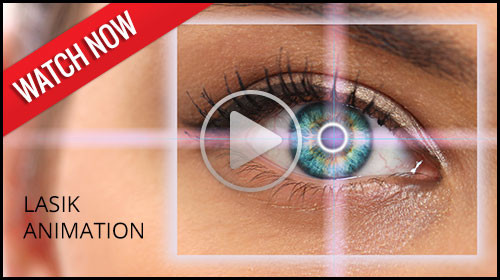 LASIK, a form of refractive surgery, is an popular option for vision correction, often eliminating the need to wear glasses or contact lenses. Simply put, LASIK reshapes the cornea with a laser.
Other surgical alternatives have become available. Among these is a technique called phakic IOL implantation which involves implanting a lens behind the cornea, but in front of the iris. With this new option, many of those who were too highly nearsighted for LASIK are now candidates for refractive surgery.
If you are interested in refractive surgery, please let us know. Refractive surgery is not to be taken lightly. Detailed testing is necessary to determine whether or not you are a good candidate for the surgery. If testing shows you to be a good candidate, we can help you choose the refractive surgeon who is most appropriate for your case. In addition, we provide post-operative care for refractive surgery.
The American Optometric Association recommends scheduling your baby's first eye assessment at 6 months. Dr. Gorsline will test for:
excessive or unequal amounts of nearsightedness, farsightedness, or astigmatism
eye movement ability
eye health problems
These problems are not common, but it is important to identify children who have them at this young age. Vision development and eye health problems are easier to correct if treatment begins early.
Check Out These Blogs Detailing a Journey Through Vision Therapy
Squinty Josh - this blogger puts an interesting spin on VT exercises and has some great ideas for new VT exercises, squintyjosh.blogspot.com
COVD Blog - this blog is by the College of Optometrists in Vision Development but includes many guest bloggers ranging from parents to vision therapists to optometrists. http://covdblog.wordpress.com
Vision Therapy Books
Jillian's Story - How Vision Therapy Changed My Daughter's Life by Robin Benoit with Jillian Benoit, click to buy.
Fixing My Gaze - by Susan Barry, click to buy.
My eyes don't hurt and I can read better. I think Nick helped me so much.
- D.W., age 10
We noticed the difference within the first month. D.W. did not complain of headaches and we saw much less "eye rolling back" uncontrollably then we had before. Now that we are done, he seems to have less problems reading then before. He used to struggle staying on the appropriate line when reading and this is not a problem as much anymore.
- D.W.'s Mom
C.D.'s reading abilities advanced leaps and bounds. Therefore, his confidence grew tremendously at school. He now reads to his younger cousins and takes chances in figuring out what signs, texts, ect. are saying. I don't see him trying to compensate by covering his eye up to help tracking. Vision therapy made an enormous, positive difference in C.D.'s and our lives. Thanks Dr. G!
- C.D.'s Mom
I read more fluently. My eyes see better. The words don't blur anymore. I do better in spelling.
- E.V., age 9
I am not sure if vision therapy is the only thing to credit, but I have seen tremendous growth in my child since the beginning of therapy to the end of therapy. Prior to therapy, my husband and I would spend 3 hours on a spelling list of ten words studying with our child. For the first time ever HE GETS IT! He is actually understanding school! Not only is he understanding school, but he is actually doing beyond our expectations we had for him. We thought that he had the potential to be a "B" student someday, but on his last report card he received all "A"s and one "B+" with an 89%. We are so proud of our son and a lot of thanks goes out to Dr. Gorsline and all the help she provided for him. We had been searching relentlessly trying to find something that would help him and this definitely did.
- E.V.'s Mom
Vision therapy has helped me increase my reading stamina and hand-eye coordination. I improved my ball handling a lot in basketball and can enjoy a good book without my eyes hurting.
- A.N. age 13
Although the Vision & Learning Center does not accept assignment from insurance companies, our office will make every reasonable attempt to help with the collection of insurance benefits due the patient. The necessary forms are completed as services are rendered. These can be forwarded to an insurance carrier. Upon request, we will submit a prior approval/denial request to a patient's major medical insurance company for these treatments.
Vision is Learned
Vision Therapy is a process of teaching the patient to see properly.
They must always be consciously aware that they are doing the learning.
A visual problem is not a disease; therefore, there is not a cure for the problem. There is only guidance for the patient in the proper direction of learning. The patient must be the learner.
II. The responsibility or the success of a case is the patient's, not ours.
The prescribed time must be spent, and a conscientious effort to experience the activities as instructed, must be made by the patient.
It is the patient's responsibility to see that the home therapy is done when it is time to do therapy. A reminder may be needed. It is helpful if a consistent time is chosen.
When therapy is done, there are no "wrong" answers to the questions. When there is a particular way an exercise should be looked at, it will be explained, and the desired discovery will be defined during the discussion. The awareness of the way an object looks, at a particular time, is important in developing visual ability. The ability to communicate what is seen is also very important.
III. The most important factors for learning are:
Motivation
Practice effect. A schedule must be strictly adhered to. Lack of adequate practice will effect or hinder progress.
IV. It is important to remember that the activities prescribed may produce stress. We are asking a patient to do some things that they can not already do easily. Constant praise and encouragement will help lessen the feeling of negative stress and produce faster results. Emphasize the work accomplished, rather than errors.
V. Home training procedures are best done without an audience, especially siblings. Each procedure should be read carefully and then tried by the caregiver. If that caregiver is unsuccessful, someone else should be asked to try. The more successful caregiver should then be responsible for that procedure.
Optometric Vision Therapy is a treatment plan used to correct or improve specific dysfunctions of the vision system. It includes, but is not limited to, the treatment of strabismus, amblyopia, accommodation, ocular motor function and visual-perceptual-motor abilities.
What Does Vision Therapy Do?
Optometric Vision Therapy works on the development of visual skills, some of which are:
The ability to follow a moving object smoothly, accurately, and effortlessly with both eyes and at the same time think, talk, read, or listen without losing alignment of eyes. This pursuit ability is used to follow a ball or a person, to guide a pencil while writing, to read symbols on moving objects, etc.
The ability to aim the eyes on a series of stationary objects quickly, with both eyes, and at the same time know what each object is. This is a skill used to read words from left to right, add columns of numbers, read maps, etc.
The ability to change focus quickly, without blur, from far to near and from near to far, over and over, effortlessly and at the same time look for meaning and obtain understanding from the symbols or objects seen. This ability is used to copy from the chalkboard, to watch the road ahead and check the speedometer, to read a book or watch TV from across the room, etc.
The ability to team two eyes together. This skill should work so well that no interference exists between the two eyes that can result in having to suppress or mentally block information from one eye or the other. This shutting off of information to one eye lowers understanding and speed, increases fatigue and distractibility, and shortens attention span. Proper teaming permits vision to emerge and learning to occur.
The ability to see over a large area (in the periphery) while pointing the eyes straight ahead. For safety, self-confidence and rapid reading, a person needs to see "the big picture". This skill aids the ability to know easily where they are on a page while reading and to take in large amounts of information, (i.e., a large number of words) per look.
The ability to see and know (recognize) in a short look. Efficient vision is dependent on the ability to see rapidly, to see and know an object, people or words in a very small fraction of a second. The less time required to see, the faster the reading and thinking.
The ability to see in depth. A child should be able to throw a bean bag into a hat 10 feet away, to judge the visual distance and control the arm movements needed. An adult needs to see and judge how far it is to the curb, make accurate decisions about the speed and distances of other cars to be safe.
What does it mean when your Optometrist says you see '20/20'? It means that when standing at a distance of 20 feet from the eye chart, you can see the same row of letters that a person of average vision can see at the same distance. If you have 20/100 vision, for example, it means you must be as close as 20 feet to see what a person with normal vision can see at 100 feet. Visual acuity is often measured according to the size of letters viewed on a Snellen eye chart, which is a measure of the sharpness of sight. However, it does not tell you anything about how the brain is processing what you see.
Our visual system uses 65% of ALL our brain pathways - that is how complicated it is! '20/20' vision represents a very small portion of this process.
There are actually over 20 different visual skills that are not detected by reading the eye chart. These abilities are learned and developed through our experiences interacting with our environment from birth. Experience is extremely important to visual development.
What is vision? "Vision" is the ability to understand and interpret information that comes through our eyes. This is very different from "sight" which is the ability to see and the eyes response to light shining in it.
The visual system is a significant player in how we process information and plays a big role in how we learn. 80% of what you perceive, comprehend, and remember depends on the efficiency of the visual system.
The Meridian Eyecare Vision & Learning Center provides treatment for many eye and vision disorders that can have a major impact on life, school, learning, and so much more. Because of the complexity between the visual system and the brain, there is much more to our eye exam than the ability to see 20/20. If you or someone you know struggles with vision and learning please consider taking our quality of life survey or calling our office for more information.